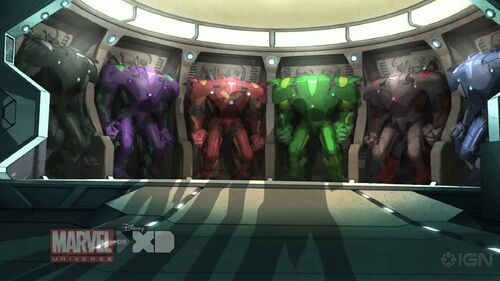 Origin
The Hulkbuster Armor is a suit of armor created by Iron Man .
The featured Hulkbuster Armor are modeled to take on the Agents of S.M.A.S.H. in case they got out of control. The Leader hijacks the Hulkbusters to attack the Agents of S.M.A.S.H. Iron Man comes to their aid and helps to fight the Hulkbusters. Iron Man uses his holograms to fool the Hulkbusters into thinking that they destroyed them. Iron Man showed them footage on the Stealth-Bot infecting a virus in the Hulkbusters armor so that they can be controlled from the outside. Using parts from the defeated Hulkbusters, the Agents of S.M.A.S.H. use them to take on the remaining Hulkbusters. The Hulkbusters then activate magnetizing beams to combine all of them into one giant Hulkbuster as it captures Iron Man and flies off. The Agents of S.M.A.S.H. pursue the giant Hulkbuster where Iron Man states that his Arc Reactor is being used to power the giant Hulkbuster and use it as a bomb where Iron Man and the Agents of S.M.A.S.H. will be blamed for the city's destruction. After freeing Iron Man, Hulk redirects the defeated Hulkbuster into the river. Iron Man states that he will dismantle the Hulkbusters, but Hulk insists that he keep one Hulkbuster in case he gets out of control.
Abomination gains command of the Hulkbusters after he was pardoned and reinstated into the U.S. Army. Abomination used the Hulkbuster Armor to take over Vista Verde. When the Agents of S.M.A.S.H. return, they end up having to fight Abomination and the Hulkbusters. After the Gamma Hammer that came under Abomination's control is destroyed by Hulk, the rest of the Hulkbusters were destroyed by A-Bomb, She-Hulk, and Skaar.